Custom Outdoor Blunt Bottom Angle Feather Flags
* Our outdoor Feather advertising flag is 2.6~5meters in height.
* UV Resistant inks and dye-sublimate the flag to create vivid, eye-catching colors.
* Lightweight, yet strong carbon composite materials flagpole or Strong aluminum flagpole
* Heavy steel quality bases for grass/sand grand and cement floor.
* Flag is made up of a high quality polyester material 115gsm knitted polyester.
* Uniquely shaped & designed to provide optimal visual exposure.
* Get attention for your business with this jumbo eye catching Feather Flag Kit!
Product Type:
Custom Promotional Feather Angled Flag with Fiberglass Flagpole
Material:
115gsm knitted polyester
Type:
Single sided (high through, single reserve images)
Double sided
Printing:
Screen Sublimation Printing
Digital Sublimation Printing
Features:
Light weight, Easy carry, Other
Usages:
Advertisement , Sports events, Beach, Tradeshow, Pomotion , displaying your logo or image.
Custom Feather Angled Flags - Specifications:
Material: 115gsm knitted polyester
Printing: Screen sublimation printing, Digital sublimation
* Single reseved
* Double sided
Sizes: 2.6m, 3m, 3.7m, 4.1m, 4.6m, 5m
Design: CMYK
Pole material : Fiberglass/ Aluminum
Flag Sizes: 200x60cm/ 240x85cm/ 290x70cm/ 325x70cm / 365x75cm / 410x75cm
Pole Length: 280cm / 360cm / 400cm / 460cm / 500cm / 560cm
Fast delivery within 5 days
Multiple styles and sizes to choose from

We want to make sure that you get the exact flag that you want. That means allowing you complete control over the customization process.
Not only can we print a custom logo or image on our sturdy flags, you are also able to customize the look of your blade feather flag.
Styles include:
* Blunt bottom angle
* Curved convex bottom
* Curved concave bottom
* Square bottom angle

Create a brand new design
Setting up a flag is a great way to get noticed, but only if the image on the flag is worth noticing!
We can definitely recreate your existing image or logo on any of our flag products, but we can also create a brand new design just for you from the ground up. The best part is, our custom design service is completely free!



| | | |
| --- | --- | --- |
| Sizes Of Flag | Sizes Of Pole | Standing Height With Stand |
| 200 x 60cm | 280cm | 260cm |
| 240 x 85cm | 360cm | 300cm |
| 290 x 70cm | 400cm | 370cm |
| 325 x 70cm | 460cm | 410cm |
| 360 x 75cm | 500cm | 460cm |
| 410 x 75cm | 560cm | 500cm |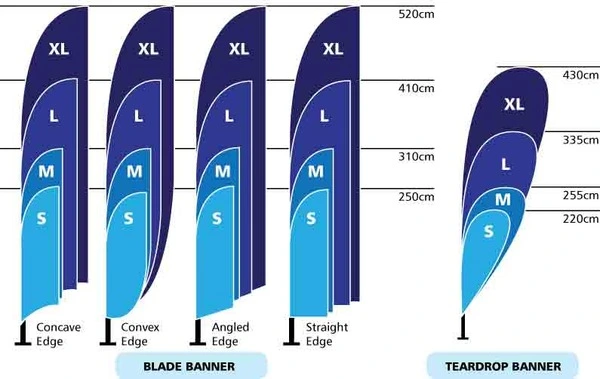 | | | | |
| --- | --- | --- | --- |
| Item No. | Weight | Size | Material |
| NF-A1 ( 280cm ) | 0.72kg | 146*Ø1.9*4cm | Alumium |
| NF-A2 ( 13ft ) | 0.95kg | 146*Ø1.9*4cm | Alumium |
| NF-A3 ( 16.4ft ) | 1.00kg | 146*Ø2.4*4cm | Alumium |
| NF-AF4 ( 9.8ft ) | 0.27kg | 113×2.5×2.5cm | Fiberglass |
| NF-AF5 ( 13ft ) | 0.65kg | 113×3.2×3.2cm | Fiberglass |
| NF-AF6 ( 16.4ft ) | 0.75kg | 113×3.6×3.6cm | Fiberglass |
| NF-AF7 ( 19.6ft ) | 1.4kg | 115x5x5cm | Fiberglass |