self adhesive matte chrome car wrap vinyl film


self adhesive matte chrome car wrap vinyl film

self adhesive matte chrome car wrap vinyl film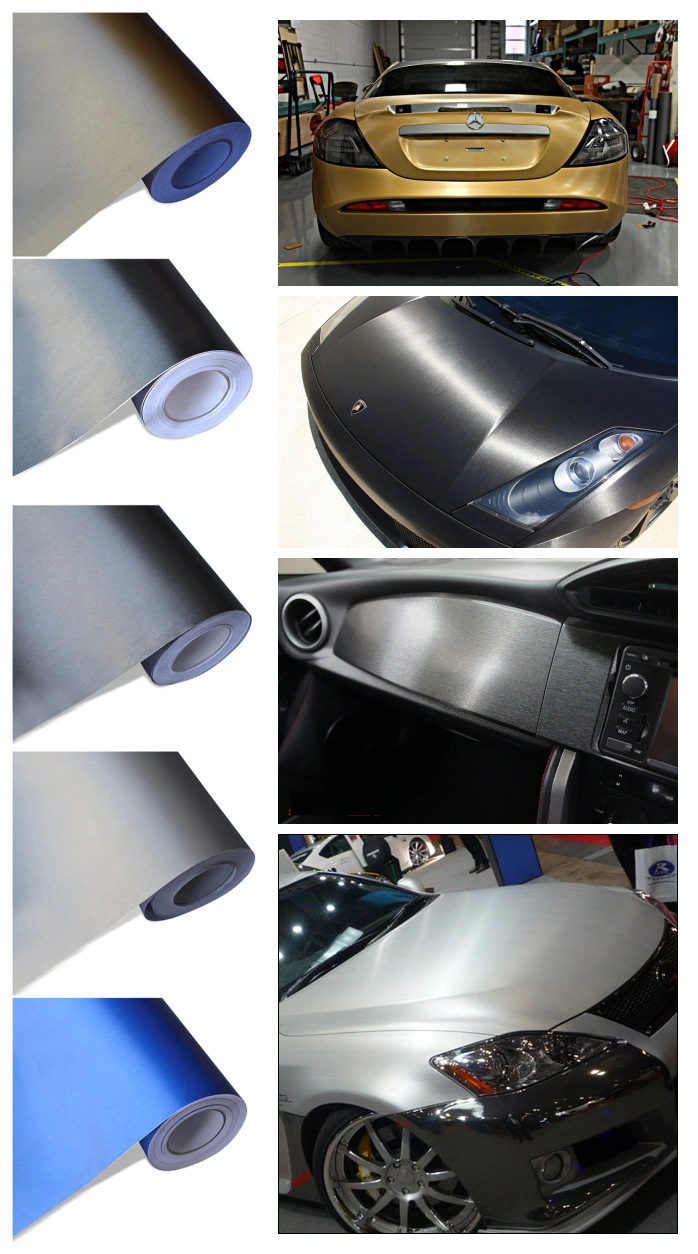 self adhesive matte chrome car wrap vinyl film

self adhesive matte chrome car wrap vinyl film

PRODUCTS

SPECIFICATION

1. Product: Matte chrome vinyl
2. Thickness: 0.15mm
3. Weight of Liner: 120gsm
4. Size: 1.52 * 18m
5. Stretch Rate: 33+ Pascal
6. Material: PVC
7. Glue: 30g/ square ± 2g/square(importing from taiwan)
8. Paper: 140gsm
9. Weight: 10-12Kg
10. Temperature: -40 to +80 degree
11. Compatibility: Die cutting, car decoration, architectural decoration
12. Colors: Blue, Light blue, Purple,Red, Rose red, Tiffany, Grass green, Orange, Gold, Silver,Buds green, Dark grey, Light gold, Coffee, Black, White
FEATURE

1. Cost-effective: Our products are very cost effective as compared to other brands like 3M or
Avery etc.

2. High flexibility: High flexibility with the use of Heat gun makes it easier to be applied on the
curving surface. The ultimate in flexibility and conformability to curved surfaces.

3. Application: Can be applied on interior and exterior surfaces of a car bonnet,spoiler, bumper,
car roof, car mirror, interior decoration, even mobile phone and so on.

4. Easy apply and remove: We use Strong Quality Imported Self Adhesive Glue, so it is easy to
apply it on the car and will stick to pretty much any surface, but also can be removed and
reapplied numerous times without losing its adhesion. Easy Install not fade, chip, crack or peel.

5. Water proof, UV and FR; Filter harmful light ray. Seamless for whole car wrapping.

6. Easy to clean with soap and water.
7. Without residual glue on the car after remove
TIPS
1. MOQ: 1 roll
2. Tools: Use of Heat gun & Squeegee is recommended
3. Sample Time: 1-3 days
4. Sample Charge: Free - we offer free samples
5. Customize Logo: Only on order above 100 Rolls for each color
6. OEM Accepted: Yes
7. Packing Detail: Hard export carton; Hard-tube
8. Payment Term: T/T; Westerm Union
9. Production Capacity: 300000 rolls per month
OUR ADVANTAGE
1. Direct Wholesale & Factory
2. Proactive Customer Support: Always Satisfying
3. Experienced: Over 20 Years of Experienced Staff.
4. Quality: We have strict quality control system. Good reputation in the market.

5. Reasonable price: We could help you strike a very balance between quality and price.

6.Extra Service: We can help to purchase related goods at best prices on our good relationship
with other factories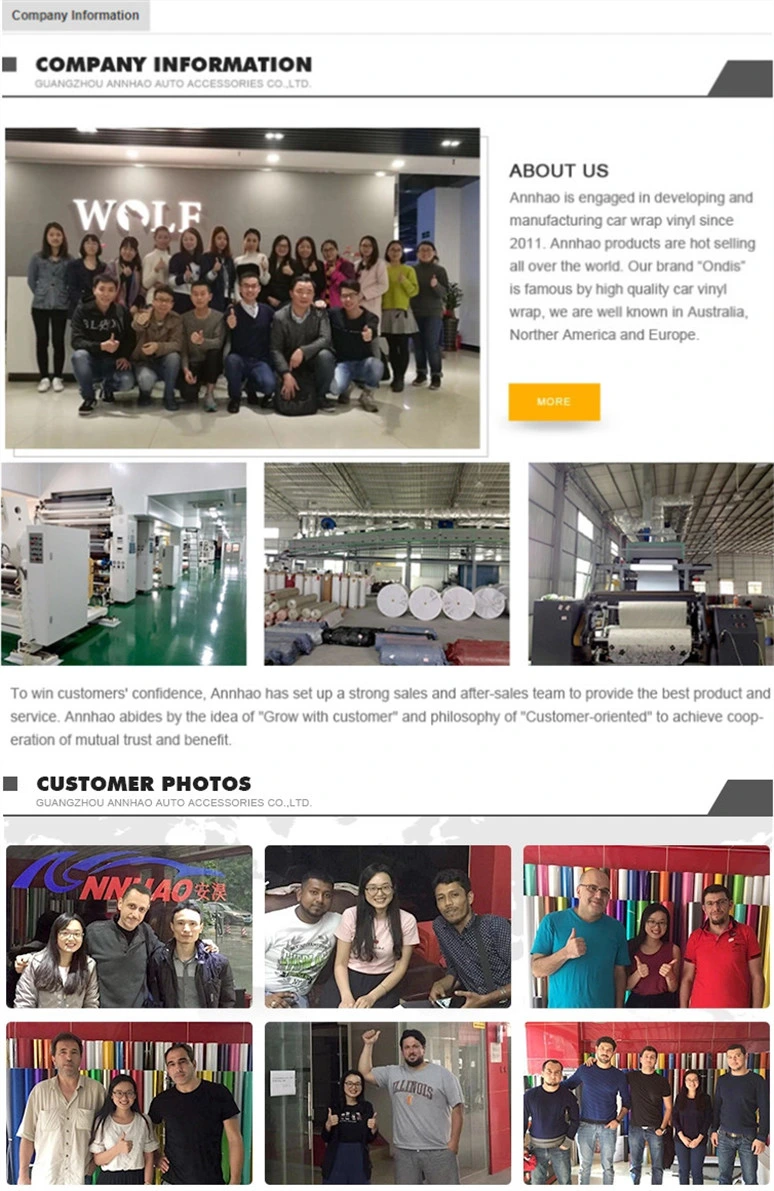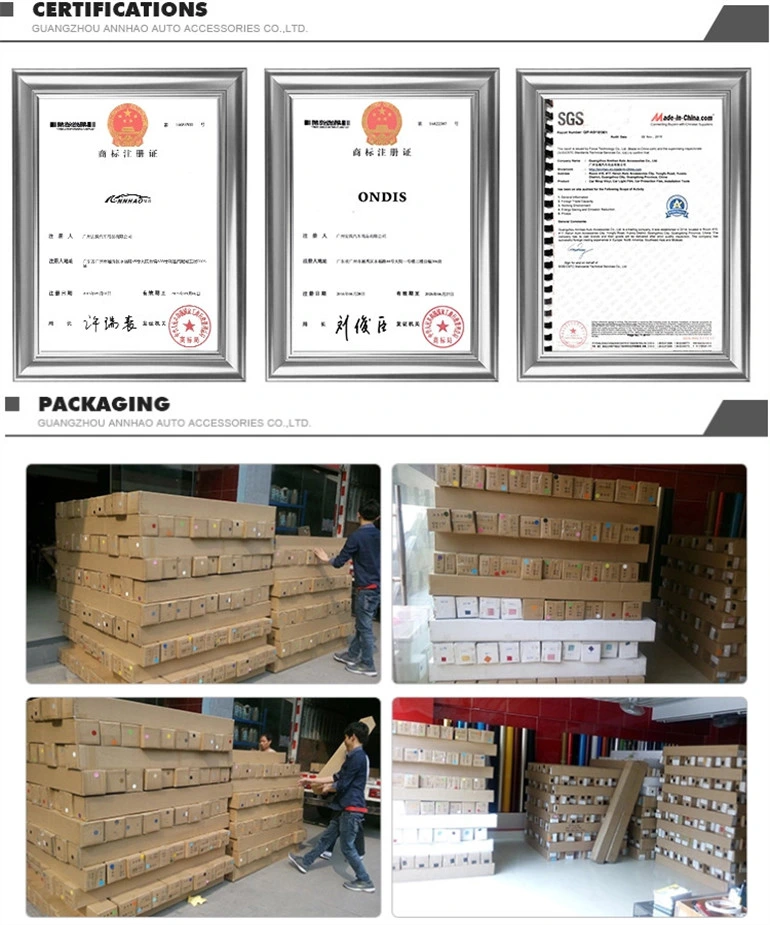 FAQ
1. Q: How much vinyl does it take to wrap a car?
A: For a car with 4 seats, 15-16 meters is enough without any mistakes. A larger car will obviously take a little more.

2. Q: What application method do we use on this film?
A: This film should be used with the dry application method after the surface has been cleaned and no oils, grease,
wax, or other contaminants are on the surface.

3. Q: How long will this vinyl last?
A: A professionally applied vehicle wrap will last between 3 and 5 years.

4. Q: Would it hurt car paint after removing?
A: Insticking fim on car body would not hurt the paint. Also, it is extremely easy to remove it. After removing, no glue,
no any residue is left on the surface on car. Car paint would remain what it look like before installation.

5. Q: How could I learn to wrap a car with this film, this is my first try?
A: We company have full experience in car wrapping, and have lots of car wrapping teaching? data and videos. We
will try our best to teach you knowledge and skill of car wrapping,and make sure you learn it.